Sabatino Chen came down the court and hit what seemed to be a game winning three pointer on a bank shot as time expired. Colorado was about to pick up their biggest road win under Tad Boyle. Then, the referees went to the monitors and waived it off, sending the game to overtime where the Buffaloes were without Andre Roberson and lost 92-83. Just about every way you look at it, it seemed like the shot went in, but ultimately, Colorado should have closed it out and not let it get to that point. The free-throw shooting was an issue again as the Buffs went 17-29 and two turnovers down the stretch by Andre Roberson and Askia Booker were very costly. For Colorado, Askia Booker led the way with 18 points and Josh Scott added 15 points.
And here's two photos: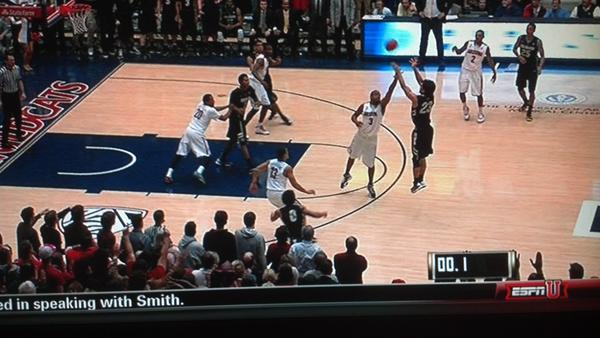 Things the Buffaloes did well:
Aside from the last minute, that's about as well as Colorado could have played against Arizona. They kept hitting threes going 10-21 from beyond the arc and were helped out tremendously by the play of Sabatino Chen and Xavier Johnson. Johnson got his first start of the year and responded by scoring 13 points and gathering 6 rebounds. What might have been the most surprising part of the game was Sabatino Chen's play for the first time this year as a bench player. Chen had some timely threes and added 15 points. Although Spencer Dinwiddie and Andre Roberson dealt with foul trouble throughout the game, Roberson was excellent on defense shutting down Solomon Hill and also was effective on the glass against a bigger front court picking up 11 rebounds, and Dinwiddie added 11 points and 5 rebounds. Josh Scott continues to be an impact freshman and keeps going to his successful jump hook. It seemed like almost all of his baskets came from that shot and he was a very efficient 6-8 from the field. Defensively, Colorado had one of its strongest efforts of the season. Arizona's struggles in the first half helped make the Buffs look better on defense, but there were many possessions where the Wildcats couldn't do anything against the Buffalo defense.
Things the Buffaloes struggled with:
The last minute of the second half was a major issue. The Buffaloes' inability to close out games finally resulted in a loss. You can say the last second shot should have counted, but if Colorado shows some composure bringing the ball up and not turning it over, it would never have reached that point. Also, it was the same story with Askia Booker. He shot too much. 18 points on 17 shots is not a good ratio.
Up Next:
Colorado takes on Arizona St. on January 6th on the road at 6 p.m. MT. This is where we'll see what this Colorado team is made of. These types of games can haunt seasons and stick with a team more than it should and hopefully that doesn't happen with this Colorado team. After this loss, it'll be very interesting to see how they respond.